See what our happy customers are saying!
South San Francisco
5 / 5 Stars
52 South Linden Ave
Suite 1
South San Francisco, CA 94080
(415) 299-2844
---
Alisa
5/5 Stars
These guys are great - very good at what they do! Professional, yet laid-back and genuinely nice, and they do excellent work. Not to mention very reasonable prices. It is such a quality of life upgrade to have sparkling clean...
Deepti
5/5 Stars
We are very happy with the service. The window cleaning guy who came was polite, professional and we hardly noticed he was there. The windows looks great and also cleaned window ledges that we couldn't reach. Thanks! We definitely recommend the company to anyone who needs great service and top quality work with little...
Alex
5/5 Stars
Used them semi annually from a while for home window cleaning. Always satisfied with the service. They are efficient, professional and services are reasonable. I will be scheduling next visit...
Shawn
5/5 Stars
I called these guys early morning and the cleaning team came over right at the scheduled time in afternoon. The work done for meticulous. Everything you expect from professionals. Transparent pricing, affordable, excellent work, Punctual. Thank...
Linda
5/5 Stars
We had a wonderful experience from the beginning to the end with the team. The owners were exceptionally accommodating and the staff that came out to clean our windows were polite, meticulous and completed the job in a timely manner. We will use this company for our home every year and we will continue to recommend it to all our friends and family. So happy with their impeccable...
Bertha
5/5 Stars
The service provided by ASFCleanTeam was excellent from every point: kindness, professionality, efficiency. I would definitely recommend them to...
Alon
5/5 Stars
I asked for an early morning (8:00 am) because I had to be out of the house by noon. A team of two came and cleaned my windows inside and out. They were so good it almost seems like they weren't even there! No water left anywhere and everything is neat and...
Bram
5/5 Stars
I've gone through 4 different window cleaners, these guys are my favourite! Will continue to use them. Thank you guys! :...
Chaitanya
5/5 Stars
The team did a great job on all the windows (2 storey home). Arrived promptly, focused on the job, and no mess. They were careful in and around my property, efficient and left my windows sparkling. I am very pleased with their service, highly recommend them and will certainly call for their services...
Maynard
5/5 Stars
We had our windows done in March 2021. So happy that we can finally now see through our windows:) What a difference!! The team came over were so kind and polite besides doing a fabulous job. It makes a huge difference when you hire a company with respectable and diligent employees you can trust. Keep up the good...
Mz
5/5 Stars
Listen... this place is EVERYTHING. The staff, is EVERYTHING. They are soooo reasonable, soooo understanding, and soooo sweet omg. Surge, the manager is a doll! Ken is great! The receptionist in the office was soooo sweet, and the George was very kind and understanding when i had to reschedule many times. Even the call center employees are sweethearts They did a Covid-19 prevention clean a couple weeks ago on my new apartment for me and even sent video of them doing the work. Still symptom free so I think we're golden here! They REALLY truly care about their customers and are sooo nice. Omg, you guys should book them. They are straight FIRE🔥🔥🔥🔥 💚💜💛 No, like for REAL. 🤗 Thanks a bunch from Asia...
Anna
5/5 Stars
Laura
5/5 Stars
This company is great! I've used them twice. They show up on time, work quickly, and do a great job. I'm definitely hiring them again and highly recommend them to anyone who needs a window...
Michael
4/5 Stars
A Sparkling Finish Window Washers was amazing! They were responsive with a quote, easy to schedule, came early and were fast and efficient. They cleaned inside and out, AND did the tracks inside the windows. I recommend them...
Franch
4/5 Stars
Definitely will use CA Bay Window Cleaning again - highly recommend! Great service and attention to detail. We miscommunication on the scope of service and they came back within a few days, and didn't recharge me for redo work. So appreciate their customer service and great...
Stanley L.
4/5 Stars
I have a 3-story house and several windows are impossible for me to reach. I am very happy I found A Sparkling Finish Window Washers to take care of everything. They offer great service and a fair...
Natasha
5/5 Stars
When we reported a problem with the service the owners came to personally address the situation and correct and we are now very happy with the service we...
Emerson
5/5 Stars
Rebecca
5/5 Stars
Jessie & Byron were very professional and did an excellent job! If you need your windows washed, this is the company to...
Esme
5/5 Stars
Prompt, courteous and professional. The scheduler was helpful and communicative. The window guys did a great job and left the house as they found it, but with sparkling clean windows! Highly...
Kevin
5/5 Stars
Jeanine
5/5 Stars
When looking to get my house pressure washed and the windows cleaned, A Sparkling Finish Window Cleaning were the first to get back to me. They showed up promptly, gave us a good price, and worked hard to get it done. I can't recommend them more highly. But I am thrilled this was so simple and professionally...
Randy
5/5 Stars
I hired them for window cleaning of my entire commercial building. I must say their services are commendable. They cleaned them efficiently and made sure that we were satisfied with the services. The prices were also low. I will surely I them in...
Arturs
Great experience with this company. They are very professional and working so...
Kathy
4/5 Stars
David
5/5 Stars
Hil
5/5 Stars
Robert
5/5 Stars
Did the job in 30 minutes and provided before and after pictures. Gutters look great now. Very careful to wear booties to protect floors when going into house. Can't be...
Sparkle
5/5 Stars
Sparkling Finish came to my house today and cleaned my windows. I cannot tell you what a delight it was. The windows are SO CLEAN. We get high winds here and the windows were a mess! Plus, I have more than 50 windows. The guys really took their time and made every window FLAWLESS. And their rates were so reasonable. Less than all other quotes. Victor was an absolute delight. So conscientious and did such good work. I will always use Sparkling Finish! Definitely hire...
Dusica
5/5 Stars
They performed stellar service!! Came on time, made it fast, and clean in no time. As the window hasn't been cleaned from outside for 7 years ( shame on me) they have to repeat procedure twice to make sure that there are no missed spots. I have quite new view now. I will for sure use them...
John
5/5 Stars
Irina
5/5 Stars
Wholfran
5/5 Stars
Jack
5/5 Stars
Fantastic and thorough service by Victor and his team. I highly recommend...
A Google
5/5 Stars
Avery
5/5 Stars
Susan
5/5 Stars
I first used A Sparkling Finish for our wedding. We had it at our home and wanted our windows washed. They did a stunning job and were extremely accommodating. It's been almost 4 years now and I am still using them with continued excellent...
JB "FunnyCharacter"
5/5 Stars
Dean
5/5 Stars
Andrew
5/5 Stars
ASF Window Washing provides professional-grade window washing and gutter cleaning services. They arrived on time, worked efficiently, and interacted politely with our staff and the homeowners. We will absolutely use their services...
Keith
5/5 Stars
Bonnie
5/5 Stars
What a transformation! Just a few hours and my home was sparkling clean. No detail was missed. I honestly can't believe what a difference this has made. Thrilled with the results. The team was thorough, respectful and clearly care about what they...
Pamela
5/5 Stars
100% fabulous service, response rate and overall end-product. I could not be more pleased. as a property manager of more than 15 properties, I have to say that A Sparkling Finish will be my go-to window cleaning and power washing service for ALL my properties. They are SUPER reasonably priced, highly professional and prompt with their...
Cathleen _WL
5/5 Stars
It's my first time to use A Sparkling Finish Window and they are very professional and caring. They know their job and...
Sydney
5/5 Stars
Victor cleaned our shop windows and did a wonderful...
Eva
5/5 Stars
Anne
5/5 Stars
Chelsea
5/5 Stars
Christine
5/5 Stars
So professional and windows look beautiful!! I highly recommend using Sparkling Finish for window cleaning. You will not regret...
Vicki
5/5 Stars
A Sparkling Finish Window Washers does an excellent job with window washing, pressure washing and gutter cleaning. I have used them at 3 different properties that I manage both in San Francisco and the East Bay. Their rates are very reasonable. Scheduling is easy and you can even pay online. Try them and you will become a repeat customer like...
Eleanor
5/5 Stars
Cassandra
5/5 Stars
Jack
5/5 Stars
dereathjohnna
5/5 Stars
JC
5/5 Stars
Natasha
5/5 Stars
Ron
5/5 Stars
Jeanne
5/5 Stars
Sparkling Finish Window Washers have cleaned the windows, gutters, sky lights at my home regularly for 3 years. They are easy to book, professional, punctual. Always nice people. Windows truly do look sparkling...
David
Incredibly efficient, very friendly and sparkling windows! The window sills werecwiped clean and no streaks down the side... Pretty much...
Hille
A thorough job, including screens and...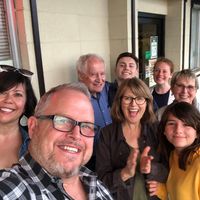 Bonnie
The team did a great job power washing our home, cleaning all windows (inside and out), and clearing the roof of debris. I feel like we have a new home. They were polite and respectful and incredibly professional. We will definitely use them...
Myrta
4/5 Stars
These guys were great. It was really easy booking a time for an estimate and they were flexible with my schedule to complete the job. My windows are still sparkling clean 3 weeks later. Highly...
Bina
5/5 Stars
Took several phone calls to get a response. Once Anna returned the call it was an easy process to schedule. The crew were stuck in traffic and kept Us updated. They did an awesome job. Would highly recommend them. We will use them again in...
Anthony
5/5 Stars
Hi Five! Very good job on my Victorian Bay windows, it is sparkling clean now, indeed. Same day service and reasonable price. I certainly recommend this company. Thank...
Amparo
5/5 Stars
Very pleased with the work that was done very punctual polite ,would definitely...
Logan
5/5 Stars
Wow! Our view just got a lot better! Thanks to Victor and Gabe our windows are now sparkly clean. Nice guys and hard workers - these gentlemen hit every window (roughly 15 bay windows) in our third story apartment. Not an easy task considering they were covered in spiderwebs and required working on ladders at great heights. Also I would like to mention that the crew was very punctual. They showed up on time, ready to work, and paid close attention to detail as they moved from window to window. My roommates and I are extremely satisfied with our new clear view. We will definitely be using A Sparkling Finish again, and I would highly recommend Victor and Gabe for your job....
Sean
5/5 Stars
they did a very good job for us . we love...
Shannon
5/5 Stars
From start to finish, getting a quote to doing a final walkthrough inspection, Sparkling Finish was professional, friendly, thorough, and delivered what they promised. They gained a loyal...
Serge
5/5 Stars
Peter
5/5 Stars
Serge and his team have done work for us twice and both of the jobs worked out perfectly. In both cases, his flexibility to work around our schedule was key and they were able to do a great job in a short amount of time. I think it was especially important for the first job as we were selling our house and wanted to show it in the best possible light. Thanks...
Alex
5/5 Stars
Here's the best reason I can give to hire Serge and his crew. He worked long past a decent job to make sure that the finished windows were up to his standards (which honestly were higher than mine). He clearly has passion for his work and knows what it means to do an excellent...
Slava George
Yevgeniy
Nick